Here's a little something to help start your day.
Breakfast is usually pretty simple around here during the week and this little table grace is a fitting request to accompany our meal.
None of us is all that fond of rising early and being up with the birds, so I thought this whimsical antique illustration might be of encouragement.
If you'd like to print a copy for yourself, just click on the image below to access a printable 8×10 PDF.
Hope this helps brighten your mornings!
Special thanks to The Graphics Fairy and Just Something I Made for such sweet graphics.
I've enjoyed sharing this with: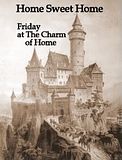 img src="http://i1269.photobucket.com/albums/jj590/russej10/WW2_zps4d01c63f.jpg" border="0″/>
We'd love to know what you think, so why not Leave a reply?